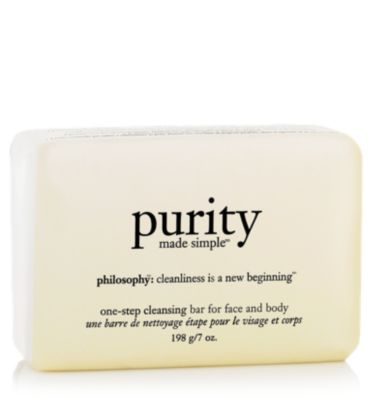 Hmm... seems like I am about to go on a collecting streak with Philosophy's Purity Made Simple line up. Remember I want their
[Fantasies] Philosophy Purity Made Simple Mineral Oil-free Facial Cleansing Oil
as well? The
Purity Made Simple One-Step Cleansing Bar
is for face and body, retails for $20 for 7 oz whereas the
One Step Cleanser
is $20 for 8 oz.
formulated with naturally-based cleansers to effectively melt away dirt, oil and makeup
creamy, rich lather is mild and gentle on the skin
8 essential oils help condition skin, leaving it feeling perfectly clean, soft and comfortable from head to toe
It's been ages since I last used a bar soap, and I can't remember how long it lasts compared to liquid soap. I just am not a fan of the messy residue that bar soaps leave on the soap racks, know what I mean? But I am drawn to the
One-Step Cleansing Bar
because it'll be so convenient to use 1 product and clean everything!
If you have tried this, I want to hear from you! I want to know how long it lasts, and how it compares to the
One Step Cleanser
!